Start your Target Plus Sucess Story!

In 2019, Target launched Target Plus™, a curated assortment of products from third-party sellers on Target.com. As an invitation-only marketplace, Target Plus stands out from its competitors by focusing on exclusive partnerships, brand principles, and an elevated digital experience. Target Plus offers a straightforward business model with competitive referral rates, no hidden fees, and SKU exclusivity to all partners on the platform.
Target is proud to recognize MobilityeCommerce as an approved integration partner and service provider of Target Plus.
Selling on Target Plus™ using MobilityeCommerce's Fully Featured yet User-Friendly Platform is easy.
Process Orders & Update Shipments
Create & Update Product Listings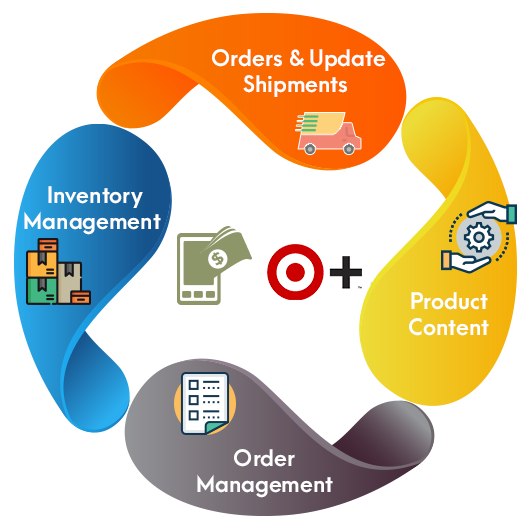 MobilityeCommerce simplifies selling on Target Plus™ and offers a number of powerful Integration Options. Use MobilityeCommerce to manage your Target Plus™ orders via our Shopify App or Leading ERP Systems like Oracle Netsuite Integration / SAP Business One / Acumatica / QuickBooks / SAP ECC / Microsoft  or just utilize our MobilityeCommerce Application cloud based portal. We also offer EDI, API, Custom Integration , Shipping Integration using MobilityeCommerce to connect with UPS , Fedex , USPS . Our built-in Inventory & Order Management System manages your orders, inventory, and shipments and supports integrations with 3PL and more. Need a custom integration? We can do that too.
MobilityeCommerce offers full product listing creation and management at Target Plus™. Our flexible product database accommodates complex product schemas and advanced attribution. With a built in error analysis tool, MobilityeCommerce reduces listing errors and speeds the product listing process for Target.com.
Inventory & Pricing Updates
Similar to Order Management, Target Plus™ inventory management with MobilityeCommerce allows sellers to manage inventory with Integrated Apps on Shopify / ERP Systems / via EDI, API, and FTP. Setup intelligent marketplace inventory rules for better stock management – stock based rules , percentage / buffer stock rules can be easily configured.
Do you think your business is ready for the opportunities that Target Plus™ brings to online retail? Contact MobilityeCommerce to learn more about this opportunity. MobilityeCommerce's team of professionals are excited to help.
Target + benefits include
Access to loyal Target shoppers
Co-partnership to determine the best assortment strategy to drive mutual growth
Limited competition at the SKU level
Partner listings seamlessly integrated throughout Target.com
Digital capabilities to enhance shoppers' ability to find your products
Reach out to target@mobilityecommerce.com to set up a session.