SAP is one of the most widely used enterprise resource planning (ERP) solutions in today's world. It allows business owners to effortlessly optimize functions like accounting, finances, enterprise performance, human capital management, supplier relationship management, and more — all through a single, unified platform.
One reason why SAP enjoys such popularity is that it can be easily integrated with major e-commerce platforms including Amazon, Walmart, and Jet.com. By syncing data with your e-commerce platform of choice, SAP Business One helps save time and resources while reducing the risk for human error during input or data management.
MobilityeCommerce SAP Business One Integration Platform
MobilityeCommerce provides cloud-based eCommerce solutions that empower retailers and manufacturers to integrate, manage and optimize sales across multiple eCommerce channels. Implementing the MobilityeCommerce SAP Business One Solution will automate the way you compile information, making management simpler and more efficient.
The SAP Integration platform offers businesses integration services that are secure, and reliable, with data still delivered and managed by SAP. MobilityeCommerce SAP supports integration between processes and data between on-premise, Cloud applications, and other external third-party applications.
Amazon Integration
The SAP Business One Integration with Amazon lets you focus on growth instead of data compilation and analysis, syncing inventory and sales information, and monitoring stock and product availability. This integration is the ideal method for associating the Amazon Seller Central to the web store in some simple steps. This integration supports both Fulfillment by Amazon (FBA) and Fulfillment by Merchant (FBM) options.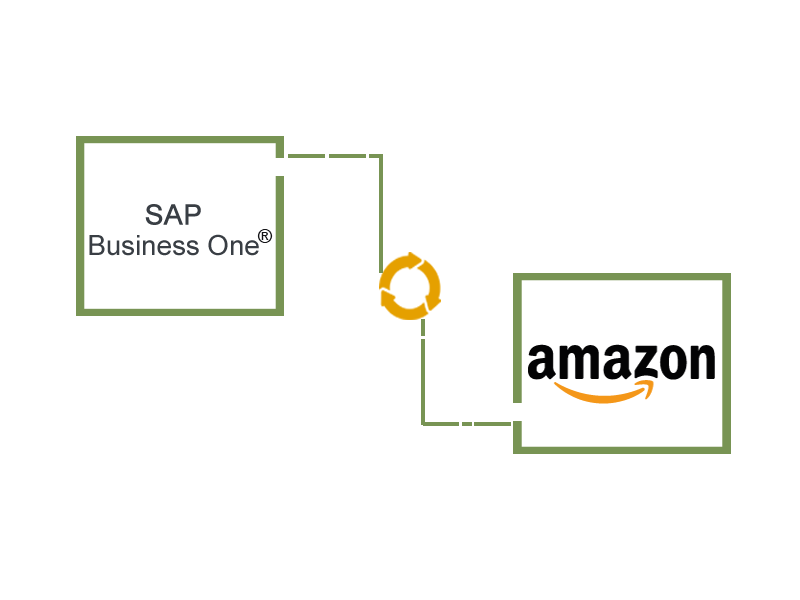 Features of the Amazon and SAP Business One Integration:
Increase your productivity, data accuracy, and efficiency.
Reduced chances of redundancy and/or data errors.
Real-time sync eliminates chances data duplication and manual entry efforts.
Real-time updates help prevent 'out of stock' scenarios in Marketplace.
Bi-directional synchronization of Sales Orders between SAPB1 and Amazon.
Automates customer data synchronization between SAPB1 and Amazon.
Walmart Integration
The MobilityeCommerce SAP Business One Walmart Integration is a powerful software to help record back office features to help you and your business better connect with Walmart, removing the need for regular manual submissions, and reducing the risk of human error during data entry.
This end-to-end SAP Business One to Walmart Integration Solution enables sales orders, inventory levels, shipping, customer information and more to move seamlessly between systems, without costly mistakes. Walmart Integration allows you to focus your time and efforts on other activities so that you can gain your customers' trust through smooth order processing and fast delivery.
Features of the Walmart and SAP Business One Integration:
Real-time Item Export & Inventory Export.
Sync Orders, Customers & Fulfillments.
Reduced chances of redundant data errors.
Syncs shipping methods across Walmart and SAP Business One.
Automatic sync of customer data and payment invoices.
Real-time Updates resists 'Out of Stock' scenario in Marketplace.
Jet Integration
Similarly to both Amazon and Walmart integrations, the SAP Business One Jet Integration will save you time, money, and mistakes. SAP Business One Jet Integration uses entity level mapping between the two systems. This helps you to improve your back-end to your front-end processes by automating all transactions. Automation will help you to operate more efficiently. By integrating your systems, you won't have to worry about inaccurate order, customer, and item data that can have a negative impact on your performance.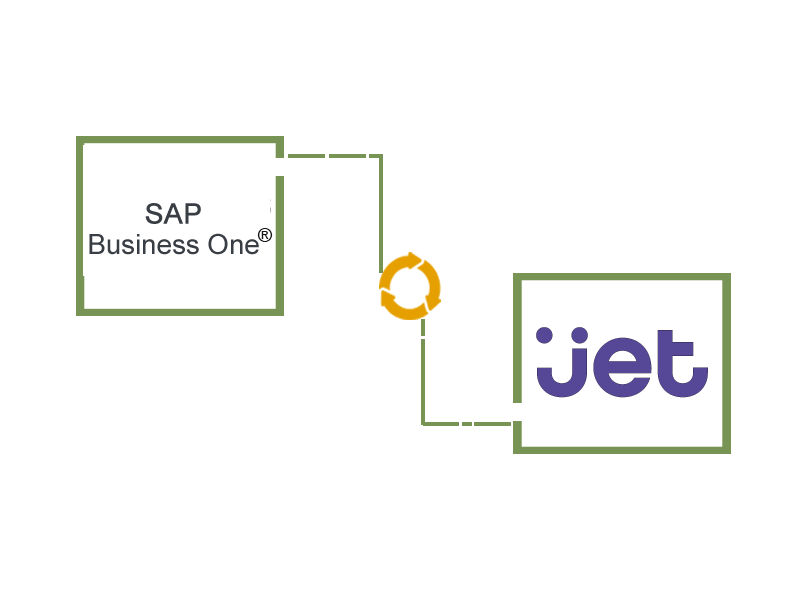 Benefits of the Jet and SAP Business One Integration:
Product listing is synchronized between SAP Business One& Jet.
Automate customer data synchronization between Jet and SAP Business One.
Bi-directional synchronization of Sales Orders between SAPB1 and Jet.
Increase your Productivity, Data Accuracy, and Business Efficiency.
Reduced chances of redundant data errors.
Trigger the creation and distribution of real-time business alerts (email/SMS).
Key features of SAP Business One Across the Amazon, Walmart, and Jet Marketplaces
Product and Inventory Sync: This feature includes consistent product listings across platforms.
Stock levels and Pricing: This feature makes keeping pricing and stock information consistent across platforms and on a variety of marketplaces.
Catalog Management: Keeps names, descriptions, images, etc. consistent for reliable information across platforms.
Fulfillment Management: This feature helps to keep your customer informed and engaged every step of the way with accurate and precise shipment details.
Order and Customer Sync: This feature transfers orders and transfers customers to SAP Business One ERP in real time. It also helps identify repeat clients and customers in the whole system.
Time and Money Saving: Integration streamlines repetitive processes, and frees you up to work on more important elements of your business.
Settlement: This synchronizes data reports, and helps you to better understand expenses, fees, and commissions.
Sales Order Sync: FBA and FBM order synchronized in real time with the added power of commissions, fees to help understand gross profit.
Track Guest Checkouts: Guest customers and their sales orders are tracked in your ERP.
Error Elimination: Automation eliminates the risk of human error.
Refunds and Cancellations: Consistent and accurate tracking of refunds and cancellations, automatically.
Have questions on integrating SAP Business One with your eCommerce platform?